UPDATE: Many news outlets have reached out asking if we are in conversations with Meta or Instagram regarding this warning. It's important to clarify that there is nothing Meta can do to prevent phishing attacks, as these are apps that claim to be our app but are not connected to Meta or Instagram in any way. Meta and Instagram can't chase every malicious website trying to impersonate third party apps.
We take security and privacy seriously. We do this not only with Top Nine but with every single app we've launched so far, all of which amount to handling millions of users' data.
We launched Top Nine in 2016, starting a huge trend that has grown exponentially every year. Every December, millions of Instagram users, influencers and celebrities use the Top Nine app to find and share their best nine Instagram moments of the year.
Top Nine's viral growth has caused dozens of clones to surface on the App Store. Millions of users download the Top Nine app every year, but some unknowingly download fakes thinking it's our app. And it's easy to think that any of the fake apps will work exactly the same, as long as they solve the problem of generating a collage with the best nine Instagram photos of 2022.
But this article is not about the difference between Top Nine and every other clone out there in the App Store. If you want to learn more about the difference between using Top Nine, Best Nine, or any other non-authentic clone you can follow this link. This article is about the fact that some of those clones may be compromising user privacy, and maybe even the security of your Instagram account.
The goal of this article
The main goal is to make people more aware of the security issues that many of the Top Nine clones have, potentially exposing Instagram account credentials for millions of users who use these clones every year. If Top Nine is used by millions of users, we're sure that these clones will have a similar amount.
While it's clear that we don't want people to use fake clones, what really drives us to write this post is making the App Store a more secure place for everyone. We will take legal actions regarding their intellectual property infringement, but these actions require more time than what's left before NYE.
We want to believe these developers are not exposing your Instagram account voluntarily. While we don't expect them to take down their clones because of this post, we hope at the very least they make their apps more secure without risking users' security and privacy. We also expect that by the time you read this, they've already made the required fixes we mention below. Hopefully, this article helps change the current state of things.
As creators of the Top Nine trend, we'd rather you used our Top Nine app. However, we wrote this post with the main goal of telling people how to know if a Top Nine or Best Nine app is safe to use, be it our own app or one of its many fake clones.
If you're about to use a Top Nine app to find your best nine Instagram photos of 2022, this is what you should make sure to pay attention to:
If your Instagram account is private, make sure you're securely signing in to Instagram.com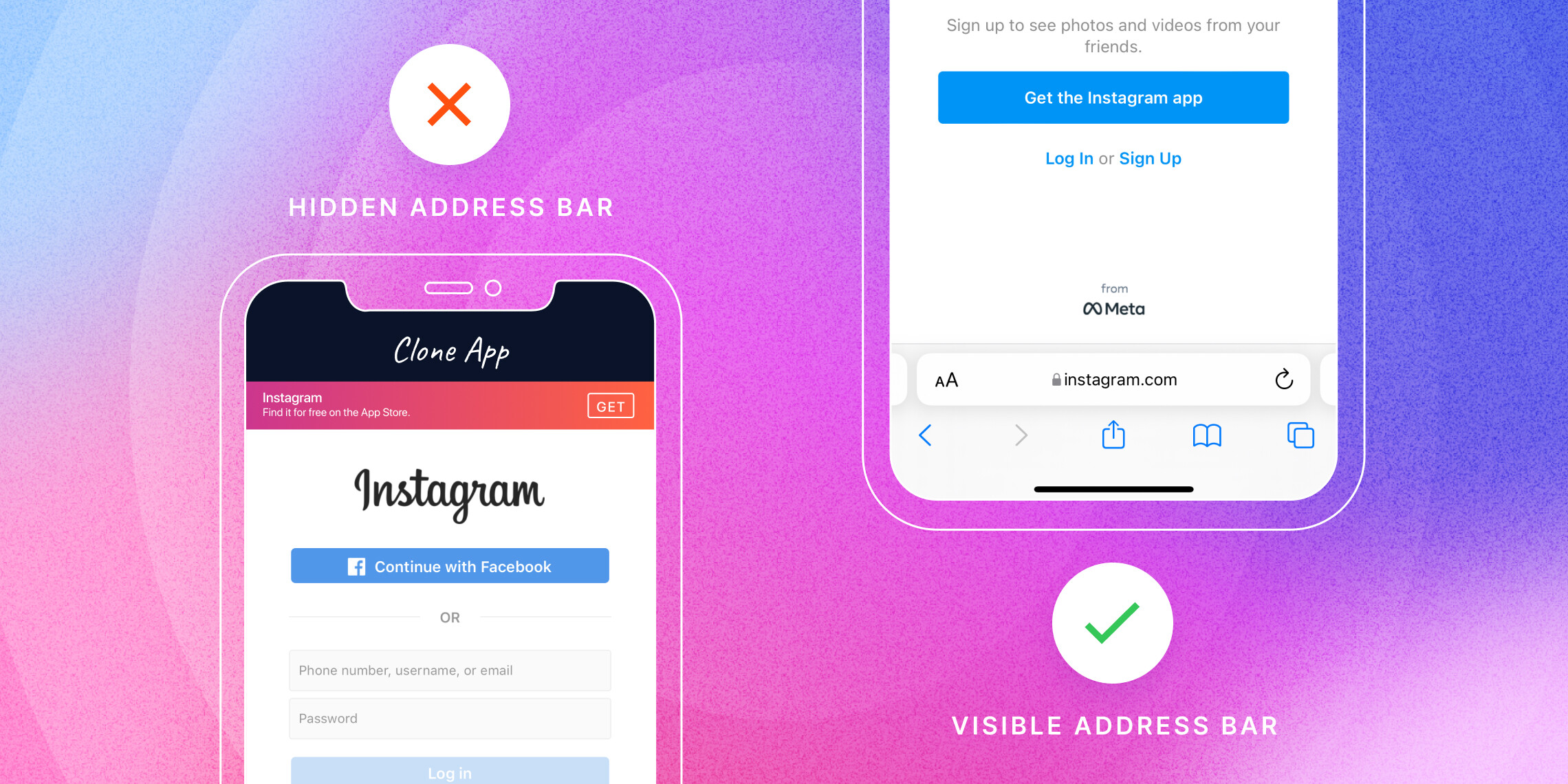 Some of the apps don't let you see whether you're signing in to https://instagram.com or some other fake page that looks exactly like Instagram's login page. This is called a phishing attack.
To ensure you're signing in securely, make sure you look at the web browser's address bar. If you can't see the address bar, then it's better not to risk it using this app.
Asking for permission to access your photos when it's not necessary
Privacy is super important to our users, and unlike other apps, we think you shouldn't need to give us access to your photos to find and generate your Top Nine collage.
We believe apps shouldn't ask for photo access unless is absolutely necessary, which is why when you use Top Nine, you will only need to give us access to your Photo Library if you wish to edit your Top Nine grid, choosing a different photo from your best nine photos of the year.
How do I know I'm using your Top Nine and not a clone?
Many people search for us on the App Store, but with so many look-alikes it can be difficult to recognize us among the clones. If you want to make sure you're using the original Top Nine service, you can download the app from our website: TopNine.co (not .com!).
Have more questions about privacy or security?
Please email us all your questions and concerns to privacy@topnine.co (not .com!)