Instagram offers great opportunities for brands to grow since it allows them to identify their audience, customize their communication strategy and analyze how well their customers are responding to it.
But it's not as simple as it looks! You need to find the most effective tools to get the results you are looking for.
To help you find the perfect ones for your segment, we asked many top marketing experts and influencers about their Instagram favorite tools. The result is this updated list of the top 28 Instagram Tools in 2020.
Over 1 billion people are actively using Instagram every month, according to the latest 2020 records. The app that used to be for scrolling through a few pics of cats and dishes has become a great business for anyone smart enough to take advantage of it.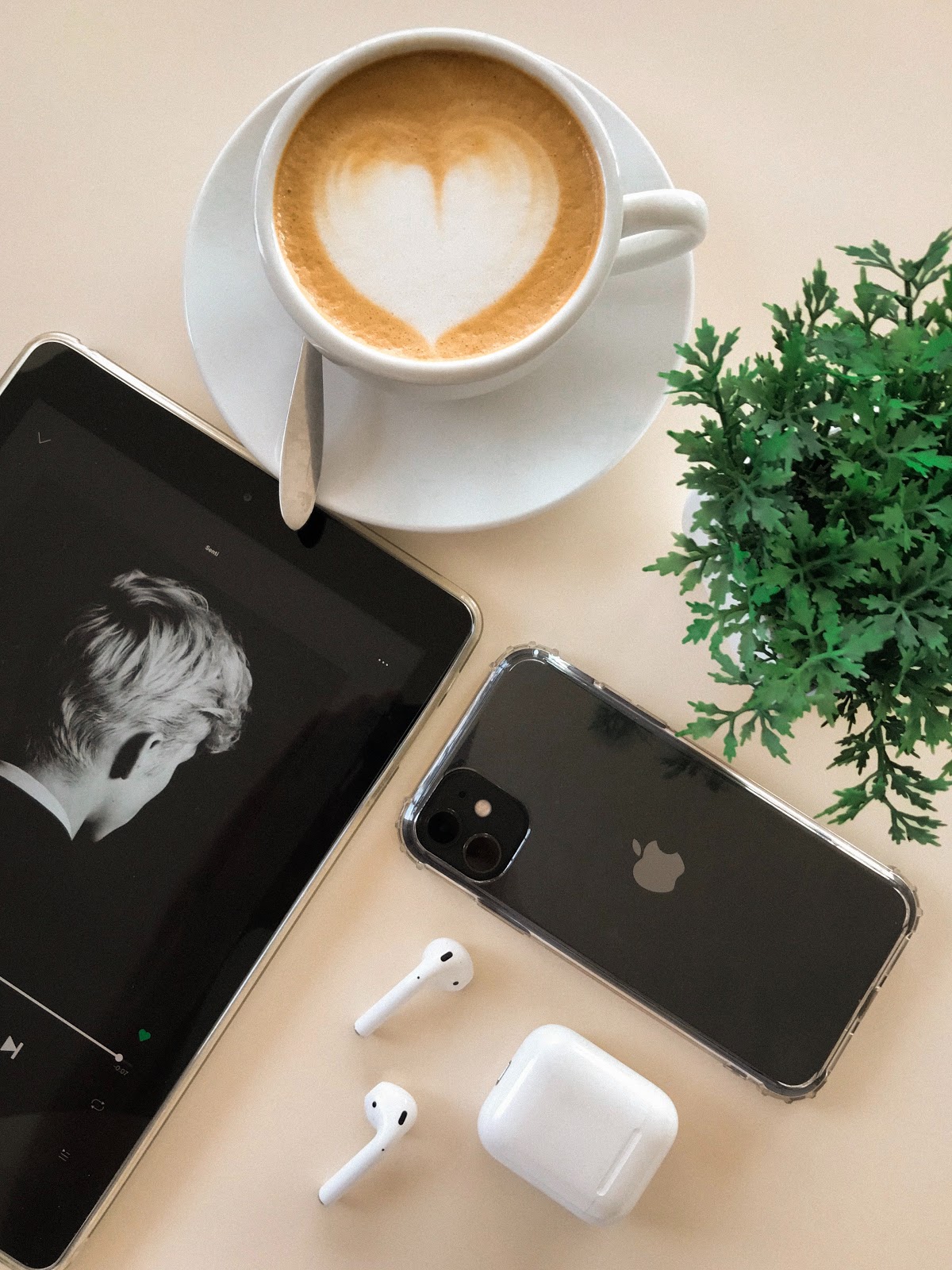 Even many of those memes accounts dedicated to the most ridiculous videos have evolved into a source of income for their owners. Nowadays, Instagram's new option to stream live with a friend is the latest trend everyone is going crazy about!
Whether you own a fancy restaurant franchise, a local hair salon, a travel agency, or you are just trying to make your way through to the influencer life, Instagram is now a key social media network that must be taken into consideration in your business strategy.
New potential customers often check out your Instagram before making a purchase. Be sure to be active and present. This will always inspire trust with new customers!
Growing your Instagram is super important. That's why we created this blog post. However, do not forget to own your communication channels. Remember that Instagram has the power to take you away from the ability to reach your customers, whether that's with the Instagram algorithm or just suspending your account altogether. As a result, don't forget to collect your followers' email addresses. Or even better, their phone numbers. There are many articles about Email vs SMS Marketing that you should check out!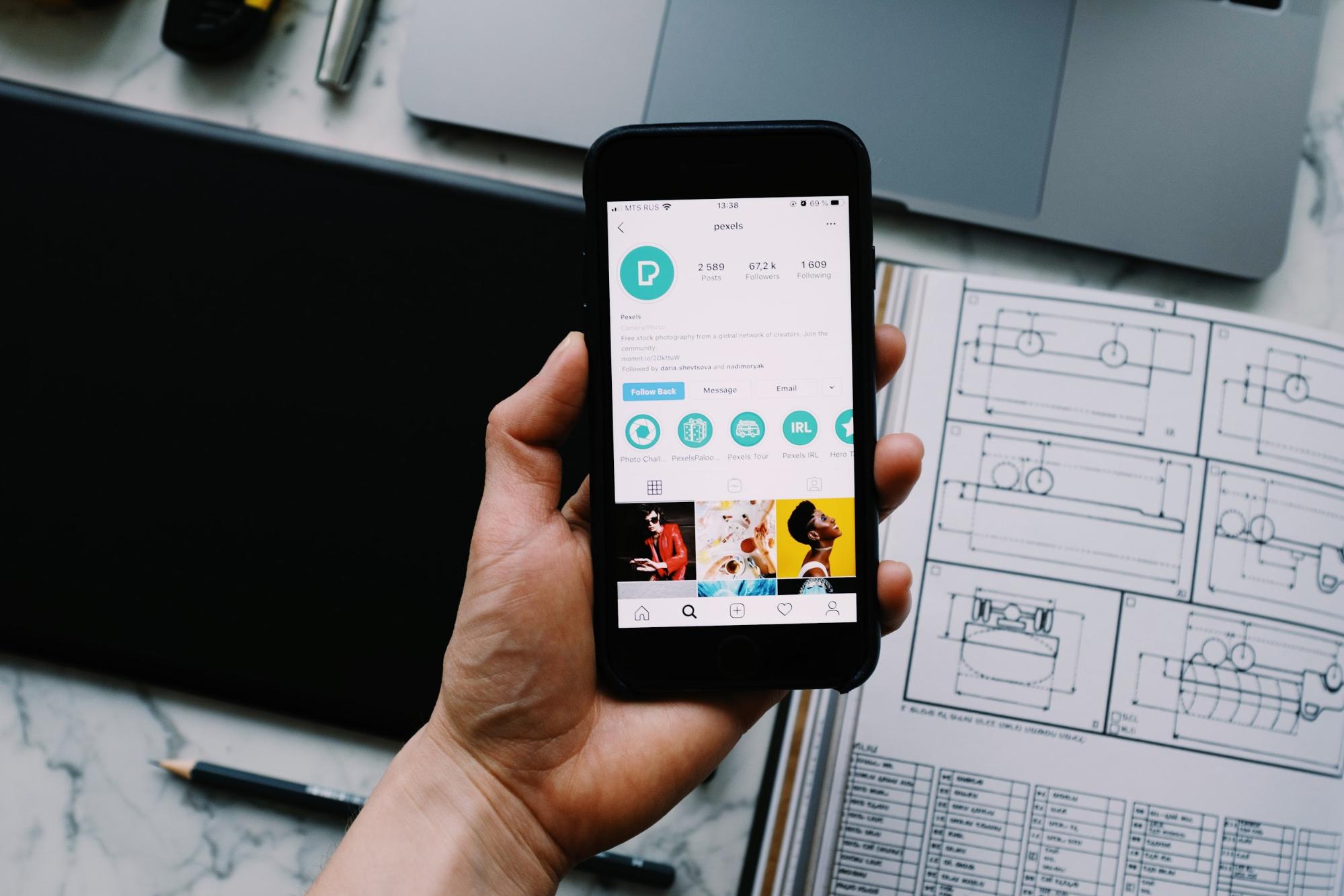 Heads up! We are about to show you all the most useful and insightful business tools you need to know in order to become an Instagram Pro, creating animated stories and marketing videos, collages, graphic design, engagement tools, Instagram analytics, Instagram growth tools, scheduling tools and much more.
Are you ready for them?
Top Instagram tools for Instagram stories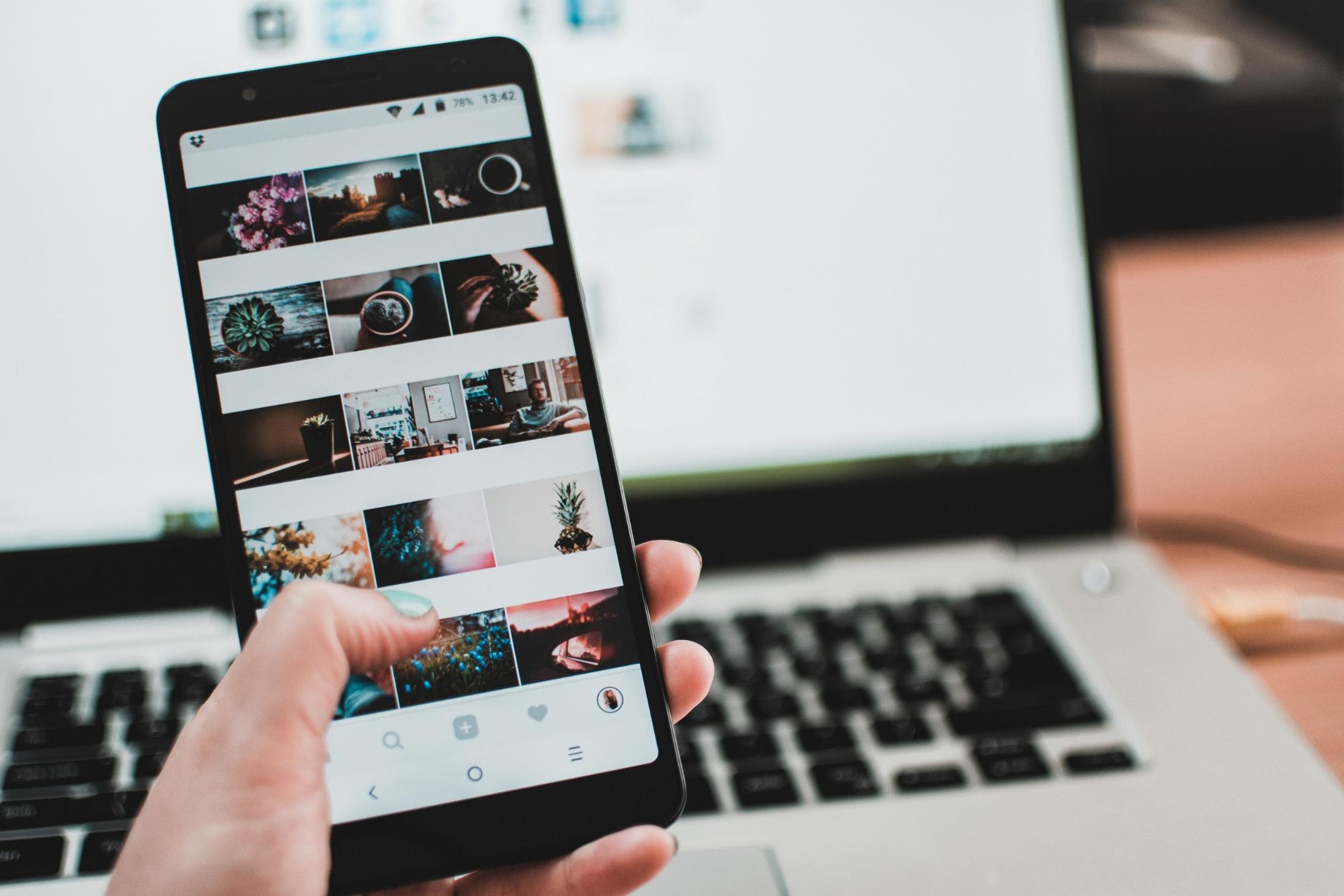 You've probably been delighted by stunning Instagram feeds and stories of influencers and photographers and wondered how they do it.
Actually, you probably have a bunch in mind right now, don't you? What if we told you yours can look just as amazing?
For non animated graphic assets, there are a lot of tips and tricks for you to polish your stories with beautiful templates, create collages and repurpose landscape content.
Let's check our favorites out.
This super easy-to-learn app, acquired by Squarespace and awarded by Apple, is used by all photographers and influencers on Instagram.
For starters, one of Unfold's best features is that it has the most beautiful templates (like Clasico Series or Film frames). They are great for moodboards and collages, which include both pictures and videos. This results in fluid and attractive videos with diverse content, all in one page.
What's more, the app also lets you discard the 5 standard text fonts Instagram offers —all of them pretty ugly, if you'll excuse us— and add text using a bunch of different fonts and colors.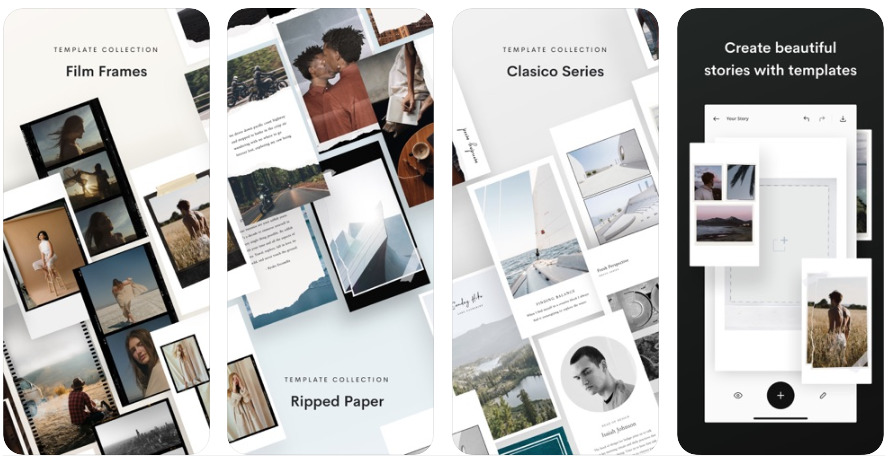 But not all that glitters is gold! The biggest problem is its static content. Unfold is not useful for creating striking and thumb-stopping content, and it lacks motion graphics.
Even though many of their best templates are paid, you can still get a lot of value from it with the free version.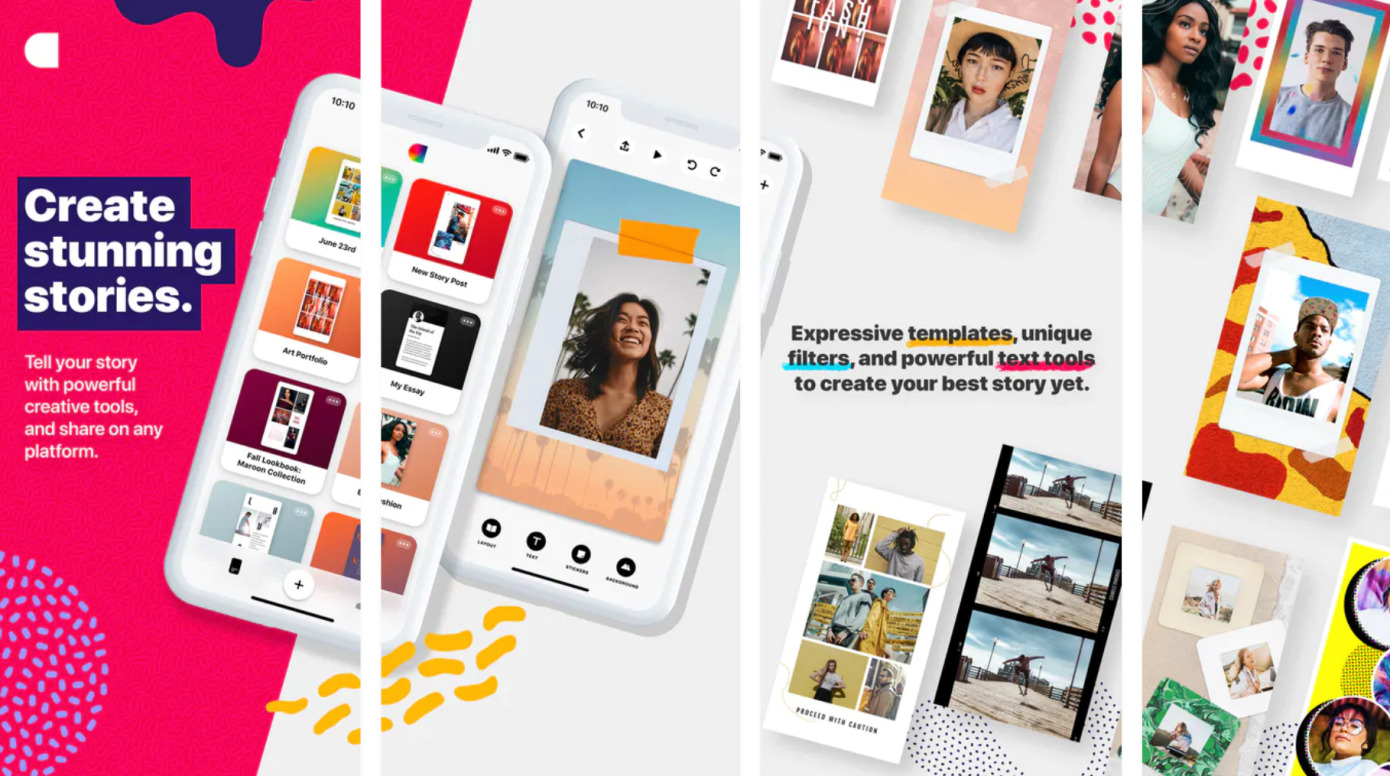 Chroma Stories, acquired recently by Twitter, offers many options to improve your content on social media networks where stories have become the norm.
For example, it allows you to choose from a lot of retro filters, holiday-themed frames and other cute templates for creating collages.
When it comes to composing and trying to make your feed look as professional as possible, there's one element that you have to keep in mind. Guess what it is?
Yes, we are talking about color. And while it may seem trivial, it's quite a complex matter.
Luckily, A Color Story is the perfect app to create fresh colorful photos. Instead of applying that same filter to every single one of your pictures to make them look great in your Instagram feed, this tool provides a lot of filters (more than 400!) to improve any color palette you give it.
It's the perfect match between bright whites, rich colors and clean adjustments.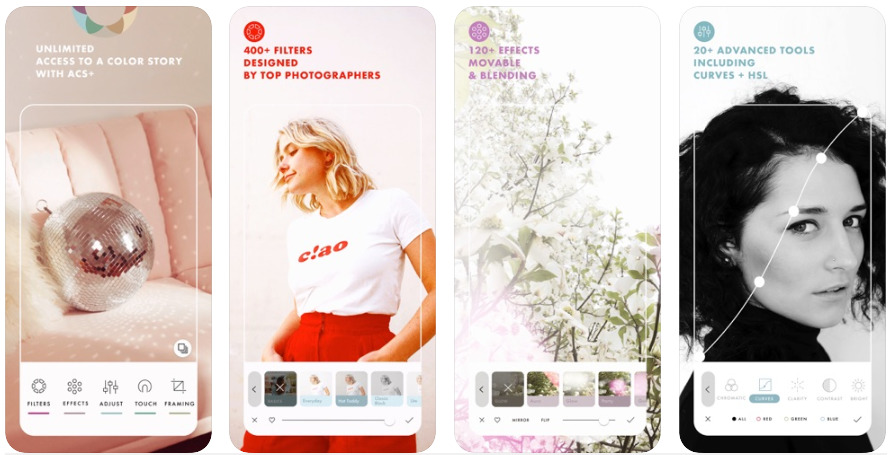 That is, of course, without even mentioning the whole variety of effects you can use to enhance light leaks, flares, color fogs and grain using layers and blend modes.
As the saying goes, the devil is in the details, which is why A Color Story gives you many more tools to provide for a more complete editing of your pictures.
And, if you're happy with the results you got and want to do it again with another picture, you can just save your editing presets to create your own custom filter.
Is there anything cooler than retro looks and vintage glows? Storyluxe knows there isn't.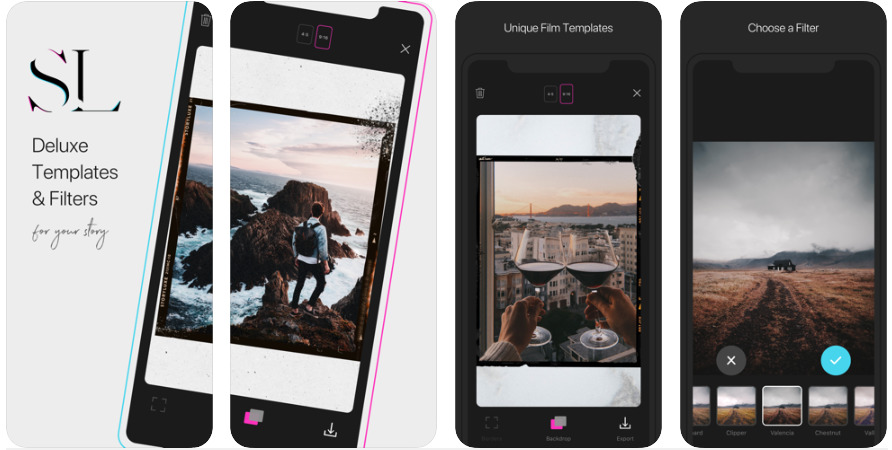 If you want to jump on the past-always-looks-better trend then stop searching! This app is exactly what you need. It offers many Polaroid-like effects and film templates, besides a huge amount of filters to take care of every little aspect of your picture.
You can also create a vintage Instagram story using film frames, tape frames and neon templates.
You will never again post a dull story on Instagram if you use Seen.
This app has more than a thousand beautiful trendy templates for Instagram stories, and they are always creating new ones!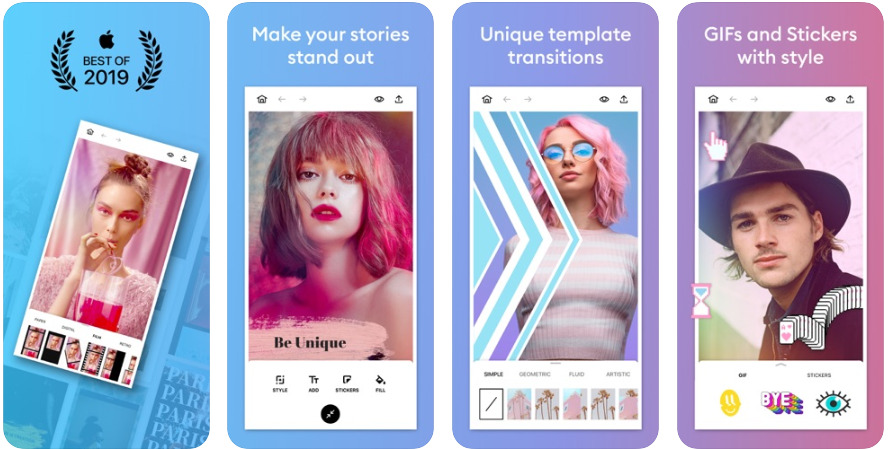 What's more, Seen provides many creative transitions between story pages that will make yous stand out for sure.
And if you are feeling a little extra edgy, there are also a bunch of stickers, GIFs and filters for you to rock it out on your stories.
If you want your business to be successful, there's a basic premise you should always remember: be consistent.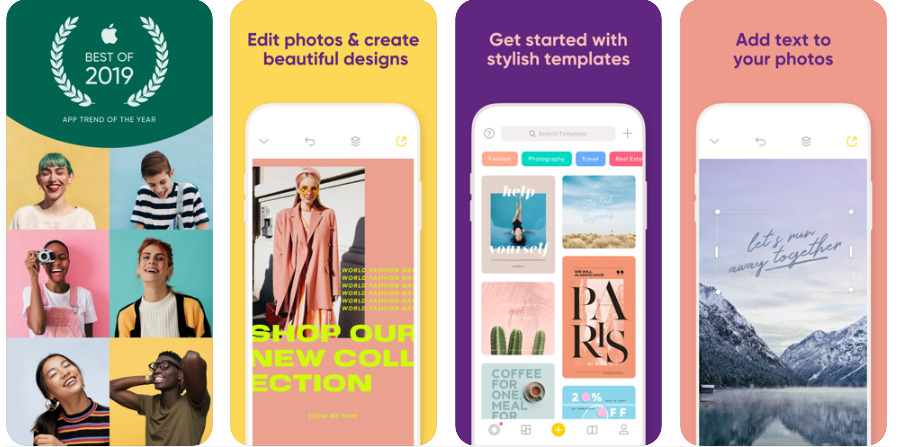 Over is a great tool to help you with this, because it provides a centralised place for all your assets, so you don't have to worry about your brand's coherence even if there are many different people working on its visual identity.
This app —acquired recently by GoDaddy— offers a wide variety of graphics and fonts collections that are really easy to use, so you can make your posts look professional even if you're not an expert designer.
It is also perfect for collaboration, since it allows you to provide and receive feedback instantly, so it's ideal for businesses in need of going fast and furious.
Top Instagram tools for creating collages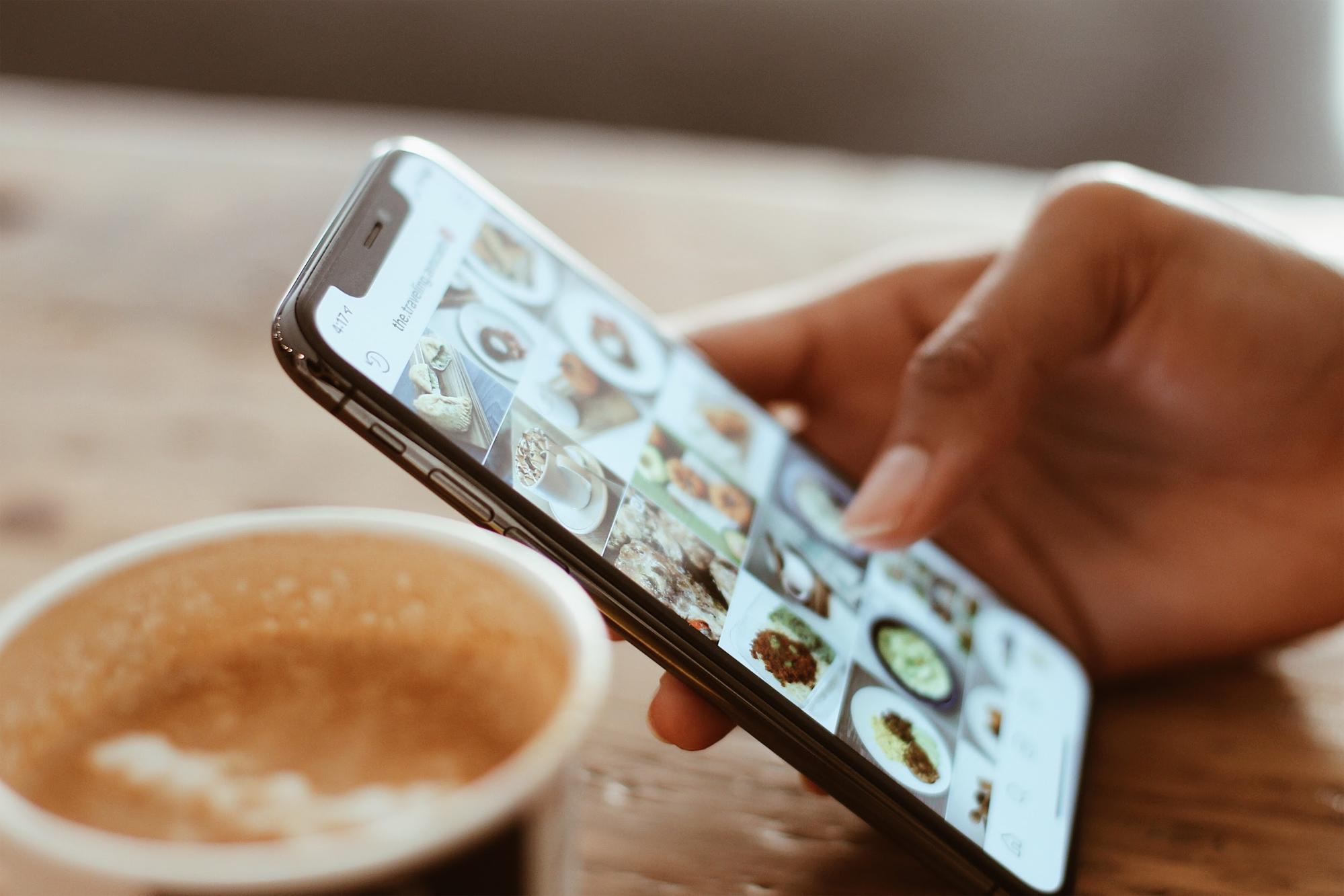 In case you want to share a bunch of your own pictures as one beautiful composition but can't figure out the best way to do it, creating a collage would be a fabulous choice. Here are our favorite apps to achieve just that.
This app allows you to choose images from your camera roll and even use the built-in Photo Booth to take a spontaneous picture —but, let's be honest, we never do that— and immediately see multiple options to combine them in an amazing layout.
Then, you just have to pick the one you like the most and customize it.
One of the many things we love about this app is that it gives you a lot of control, from letting you mirror, flip and replace images, to zooming in or out and resizing them in an easy intuitive way.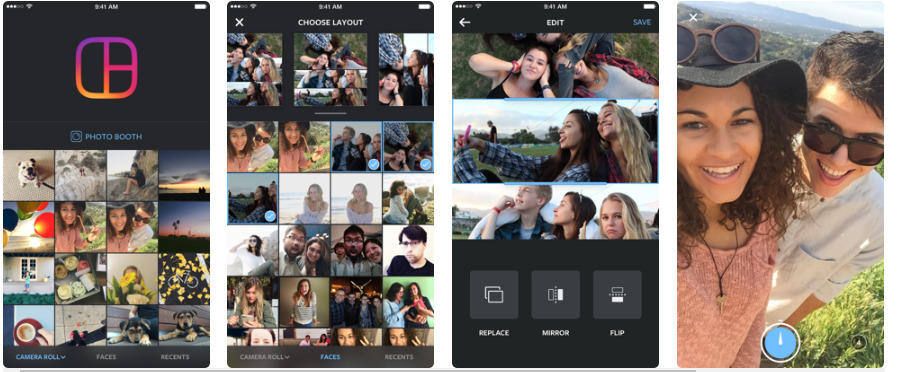 With Layout, you can use up to 9 pictures at a time, save your designs to your camera roll, and there's no need for you to register in order to start creating.
This app is not only super easy to use but it also has tons of trendy templates for you to stylize your collage and share all your magic at once.
The best part? It lets you combine up to 25 images!
Photo Collage - Collageable also has an ace up its sleeve: instant beauty retouch tools.
Yep, you can smooth out your skin, enhance your eyes, and even reshape your face without having to download any other app. Isn't that just fantastic?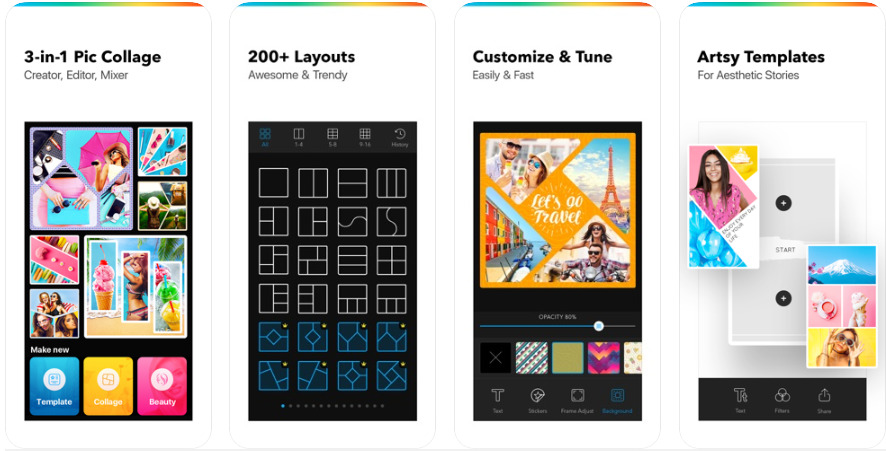 With lots and lots of effects, stickers, frames, backgrounds, patterns and text fonts, Photo Collage - Collageable motivates you to turn your creativity up to 11 and become a layout master.
You can choose different sizes and shapes and rotate and move your pictures non-stop until you find the perfect composition.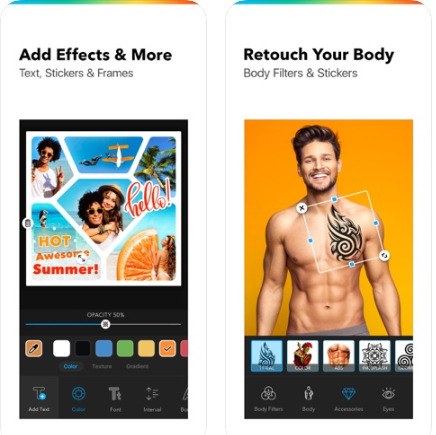 Whether your designs follow the 'less is more' rule and adopt a minimalist style, or they are wildly extravagant it's up to you. There are no constraints or limits!
Top Instagram tools for graphic assets, images and banners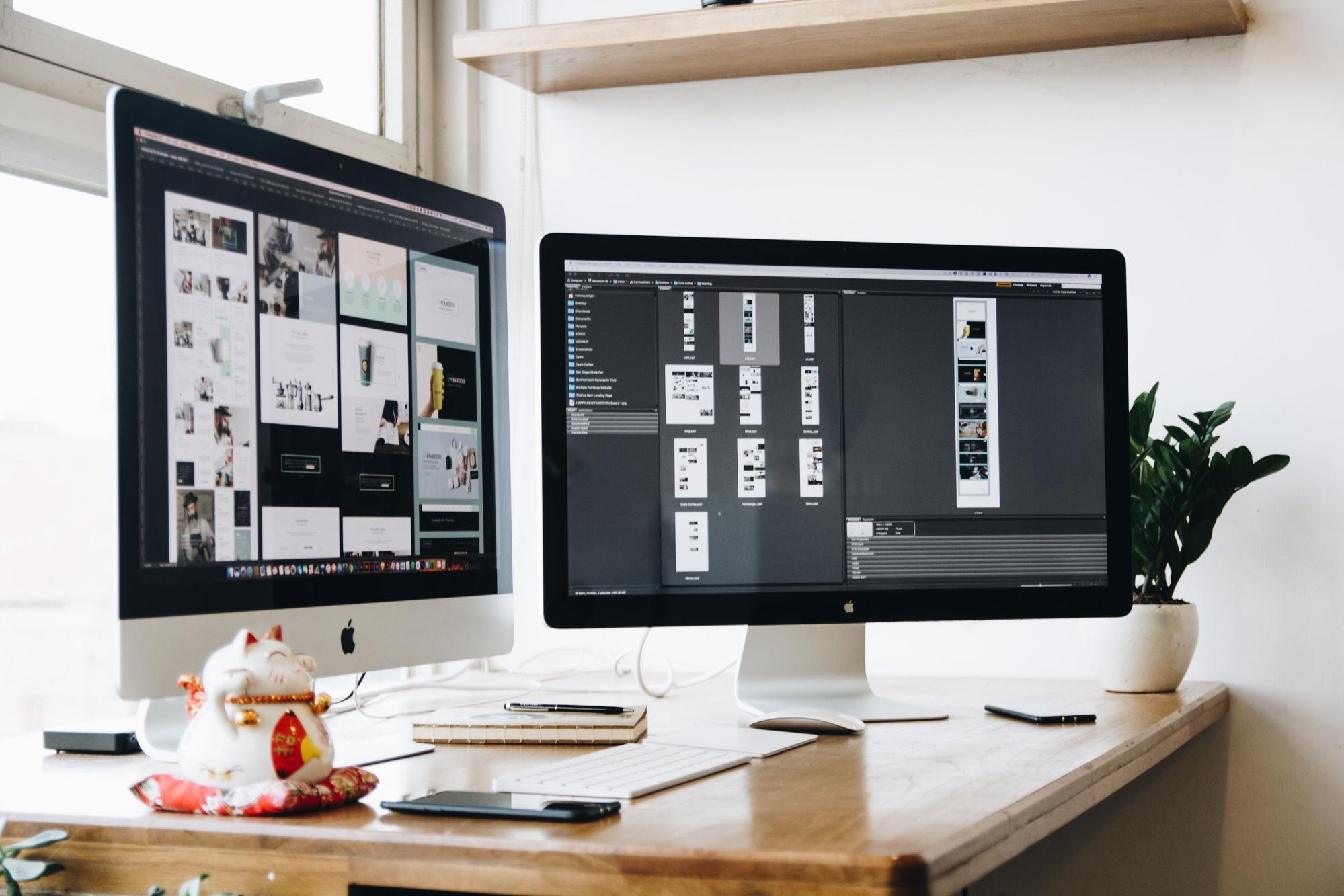 Yes, you can still create stories with them, but these tools are best for creating graphic assets, images, and banners.
They started out as graphic design tools and then expanded to other types of assets. As a result, their key differentiator is that they usually provide hundreds of graphic assets that others don't.
Crello is all about templates. There's never been such an easy way to create amazing designs without hiring a professional graphic designer.
Lets face it: many small businesses and startups can't afford a full-time graphic designer. But there's nothing to worry about, with Crello you can get closer to having professional looking results.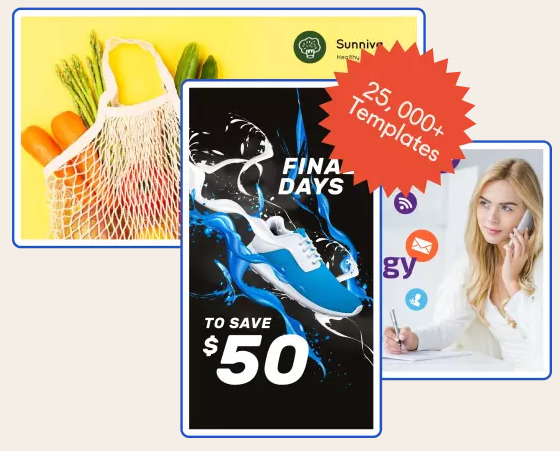 Crello is the easiest to use online design tool for animations and graphics for social media and web designs, flyers, invitations, letters, YouTube posts, menus, gift cards and virtually anything you could need a design for.
Using this app —that has a desktop version as well— you will be able to bring professional creations to life without needing expert design skills.
If you liked Crello, you are gonna love Canva. Also with both an app and a desktop version, you can pretty much design whatever you want.
Brand logos, Facebook posts, Instagram stories, Instagram posts, Instagram story highlight cover, Facebook cover, media kits, posters, infographics, business presentations, resumes, animated social media designs, A4 documents, photo layouts, you name it. The list goes on and on but you get the idea.

The possibilities are almost infinite and this is not even the premium plan we are talking about. You can use it for free, and by paying a subscription you get access to a larger image bank, drawings, elements and fonts.
Honestly, it's one of the best tools for marketers you can currently find online.
One thing Placeit really stands out for is its formidable collection of mockups.
It doesn't just have the largest mockup image library but it also provides a super simple way to make mockups just by dropping any image —a logo, app screenshot, design, or literally whatever you want to present— to their templates.
Placeit, part of the Envato family, is perfect for marketers who need to promote some branded product like a t-shirt, coffee mug, hoodie, tote bag or even tank tops with their brand's logo or some other iconic image they want to have printed.

But that's not all. Let's say you are a painter or a plastic artist. Wouldn't it be cool if you could post an image of your work framed in a super fancy living room? Well, Placeit's got you covered there too.
Top Instagram tools for photography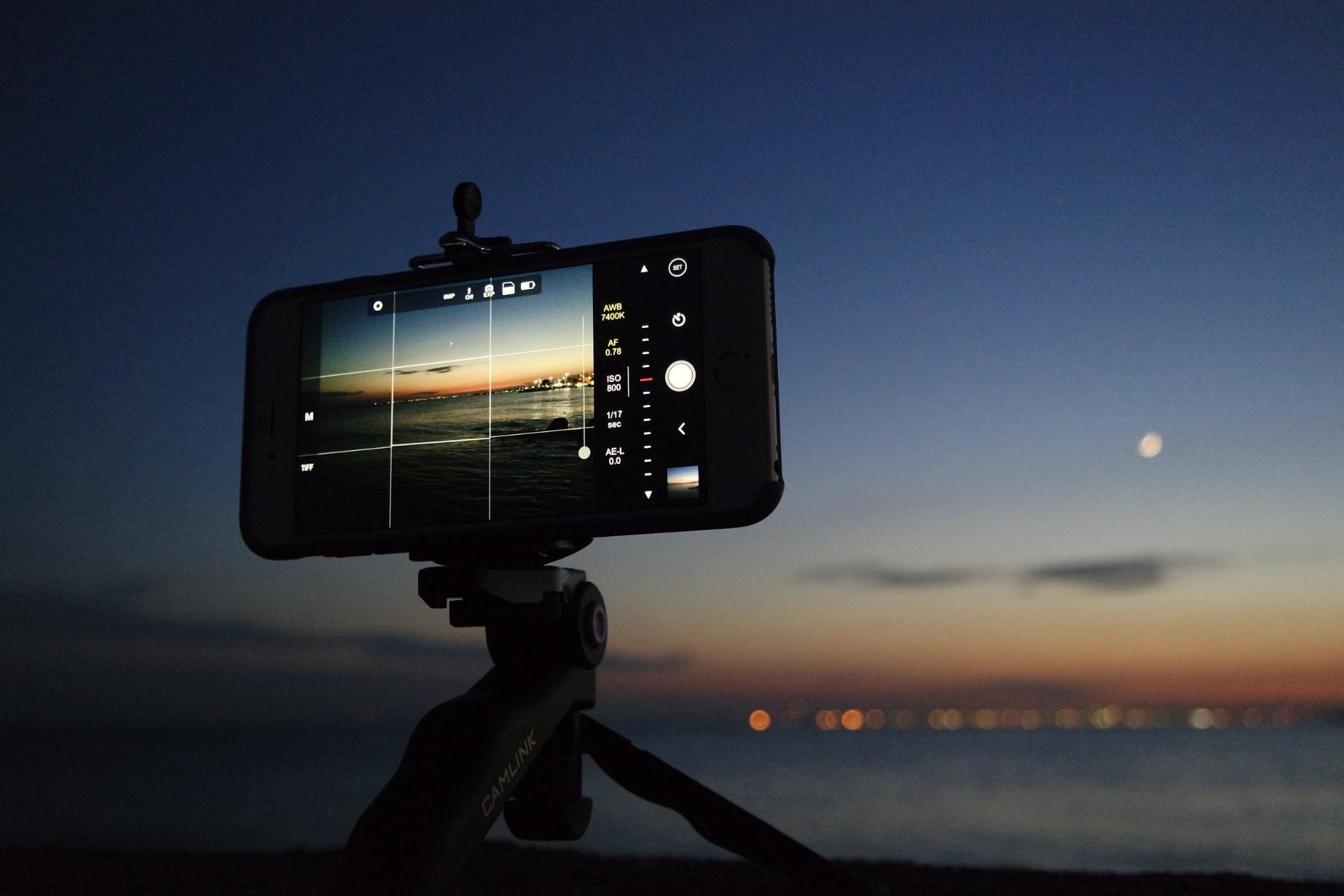 When it comes to social media, photography is as important as editing. We could consider it a fifty-fifty, given that when posting a picture, especially on Instagram, how it looks in your feed is key for potential new followers that discover your account.
There are tons of editing apps that you've probably heard about, so to help you narrow it down to the ones worthy of your time, here's some of the ones we found to be the most helpful.
Tezza is one of our favorite apps. No one can deny that it gives a super special gorgeous look to every picture you edit with it. You could say that everything Tezza touches turns to gold!
It has many presets that allow you to correct lighting, contrast, exposure, shadows, highlights and everything else you would expect from a photography-focused editor.
But the real magic comes with the filters, which give great prominence to highlight tones and create the perfect color balance while providing a bright and lively shine or a unique vintage look.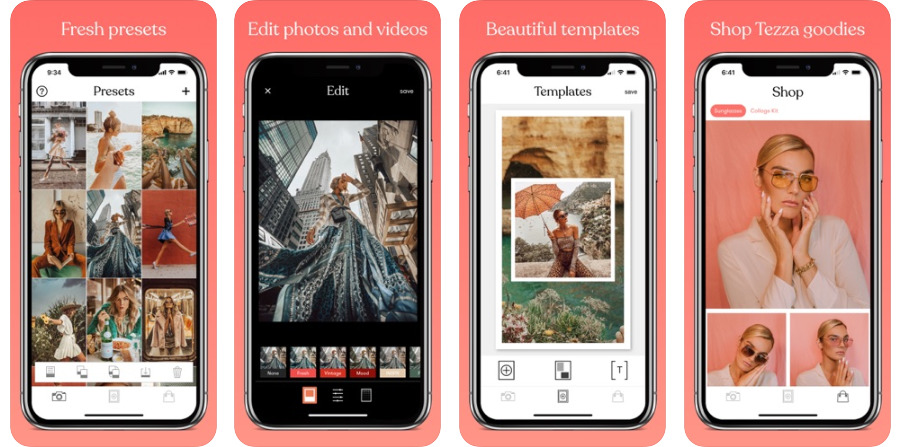 But be advised, it does leave very few features available for free though: currently only four out of twenty four filters are free.
This photo editing app offers both photo and video tools for creators. The results you get by using it are a little bit more artistic than the ones you could get with more standard editing apps.
Besides the possibility of adjusting everything from color and contrast to grain and tone, VSCO has a stunning library of filters to enhance your pictures.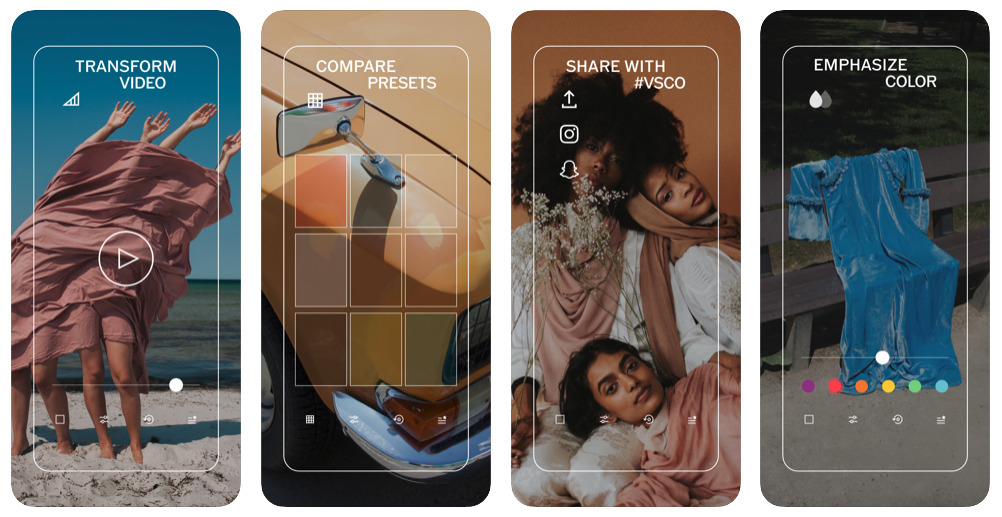 This app is also focused on developing and growing its own social media network, similar to Instagram, but it still allows you to download your creations and publish them in any social network you choose.
This Instagram tool is perfect for portraits or selfies. This app leaves behind all the standard filters to prioritize plain, simple and super practical edits.
Lensa will let you achieve perfect face skin, impeccable eyes, adjust the background and use the spotlight to enhance your photo.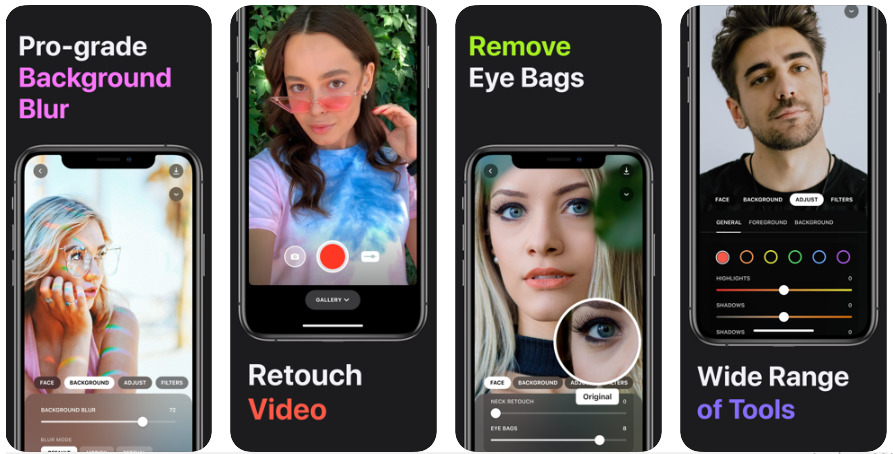 We are gonna be honest: Lensa is not cheap, but its high quality functions are a hundred percent worth it.
Snapseed currently includes 29 tools and filters like healing, brush, structure, HDR, perspective and much more.
Also, you can save your customized edit preset to apply it to new pictures, and it also provides a lot of useful advice on how to get the most out of the app, and also about photography in general.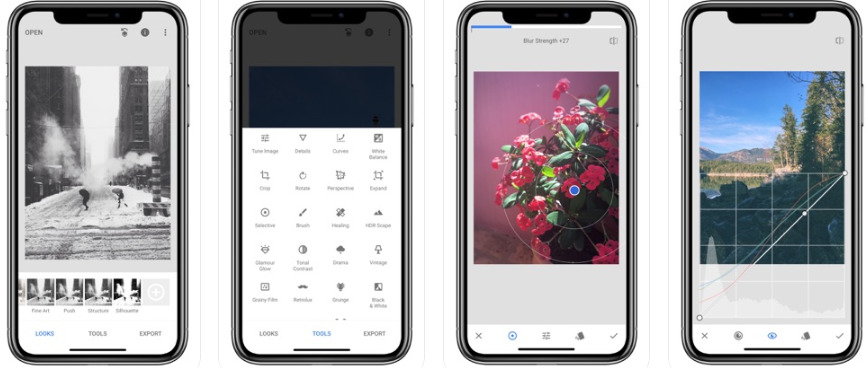 The icing on the cake is that it works with both JPG and RAW files!
Lightroom is the best photo editing tool if you want to go full pro mode. It includes tutorials on how to use the app, basic concepts about the editing process and a few tips and tricks to control every little aspect of the image you are editing.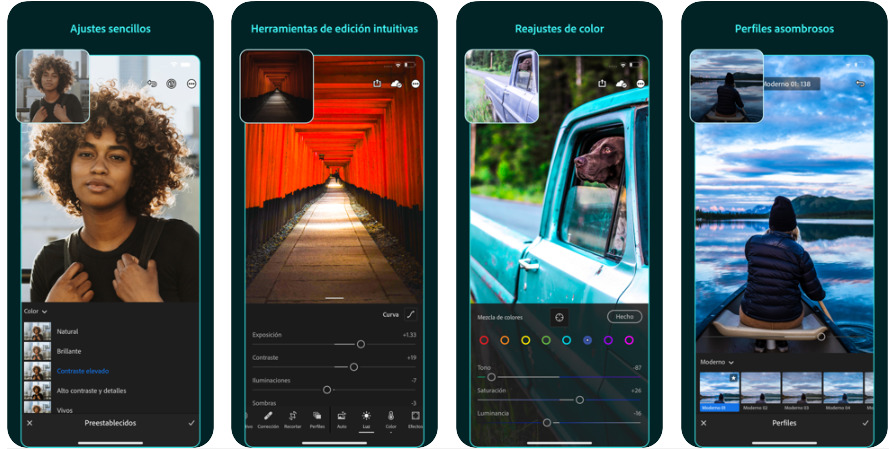 Even though it's a paid service, you do get to enjoy a free trial in order to make sure it's worth paying for.
Top Instagram tools for letterboxed videos and GIF editing
Communicating using GIF's is definitely a thing. Don't get left out!
Also, given that every social media platform sets its own set of ratios and formats for uploads, and that they are usually different to the ones from the film industry, letterboxed videos have come to be a great solution to display the entire image.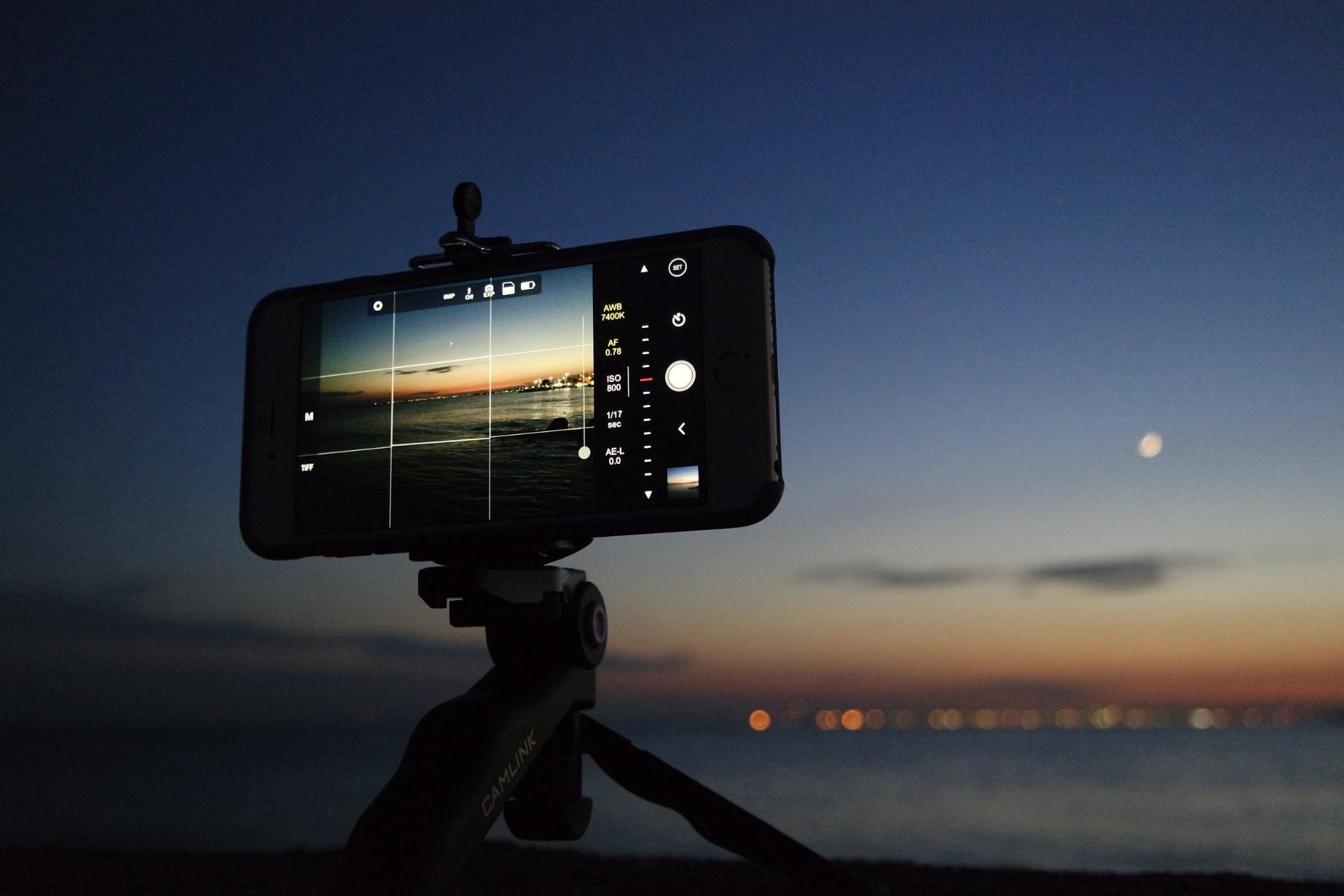 So, let's list the best tools to help you with this.
Take your videos and memes to the next level with Kapwing. It is not only a studio for adding text and making memes out of images, videos or GIFs. It is also a video maker, a meme generator, the easiest tool to add subtitles, resize videos, add audio to them, remove background from images, trim videos and so much more.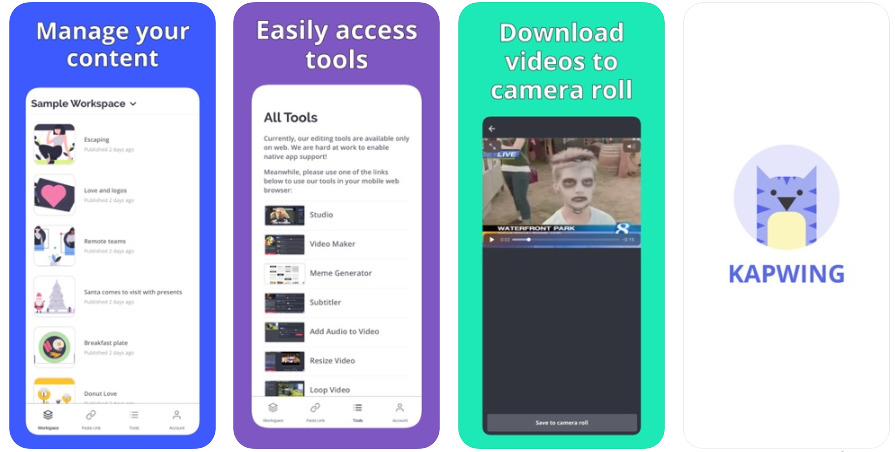 There's no way we could tell you all about Kapwing, you have to go see it for yourself!
If your goal is to grow your audience and increase followers by creating videos, then Veed is going to be a great ally.
With just a few clicks here and there, this tool turns marketers and influencers into expert video makers.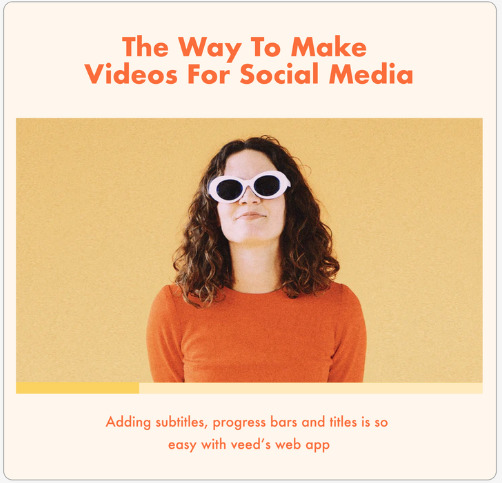 Veed has an easy to use interface and —probably the best part— you don't need any software in order to enjoy it: welcome to online editing!
Top Instagram tools for creative video content
Creativity and originality are two skills you should always keep in mind when it comes to social media.
If you want your content to stand out, Boomerang gives you the easiest way to make it happen. Just search for something on movement or record someone —or yourself!—. Touch a button and Boomerang will take care of the rest.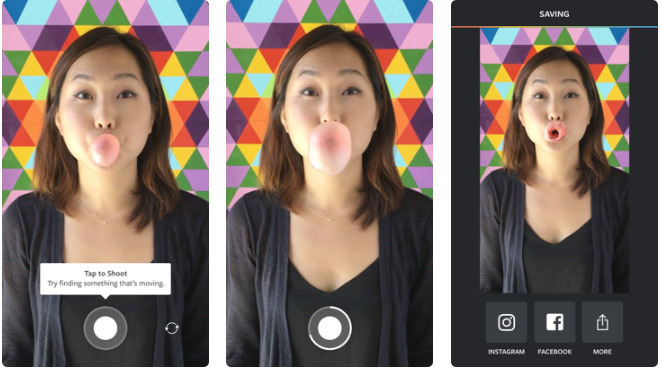 The result? A fun looping video that you can directly share on Facebook and Instagram as well as saving it to your camera roll.
Are you in need of a social media boost for your accounts? Inshot won't let you down!
This app works for creating , trimming, cutting and merging videos, as well as adding music, text and blur backgrounds.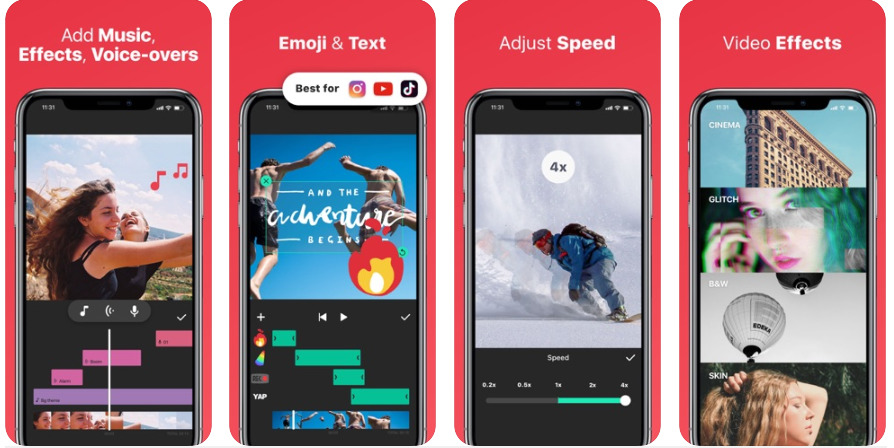 With the "Be a video superhero" slogan, Magisto promises extraordinary videos in a fast way, similar to the time it takes you to write a blog post.
It's as easy as PowerPoint and super effective, like a personal meeting but with all the power from digital marketing.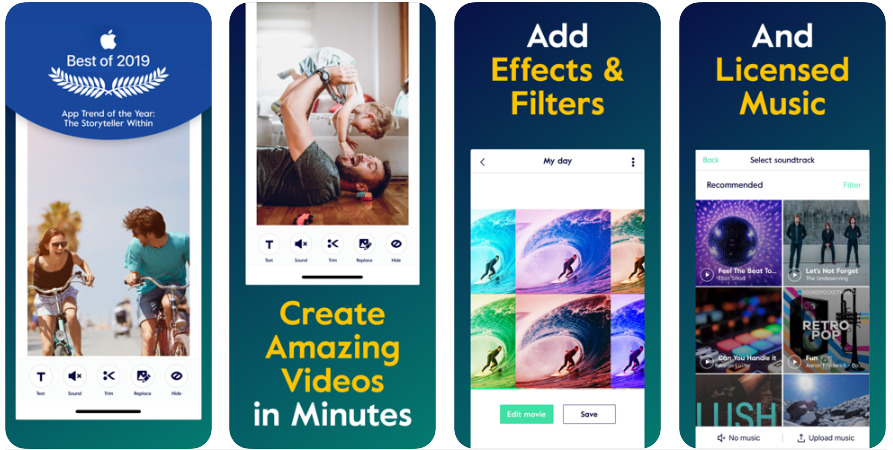 Need more? It won Apple's "Best of 2019" award, so we are trusting them.
Top Instagram Tool for Stop Motion
Often times what you want to show your potential customers is not a product in itself, but rather what they could be able to achieve by using it. If that's the case, storytelling is key for users to know the real importance of your product.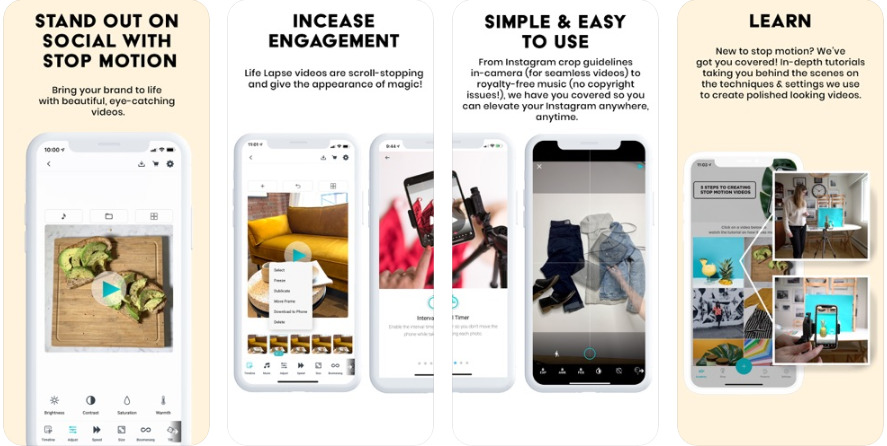 The power of stop motion videos is that they allow you to portray most use cases in a short story. With Lifelapse you can create beautiful eye-catching content like this. Make sure to follow the easy tutorials that come with the app to get arount the basics.
Top Instagram tools for scheduling posts
We know what you are thinking: Instagram is for sharing spotaneous moments and experiences. Well, we hate to break it to you but the industry has moved long past that.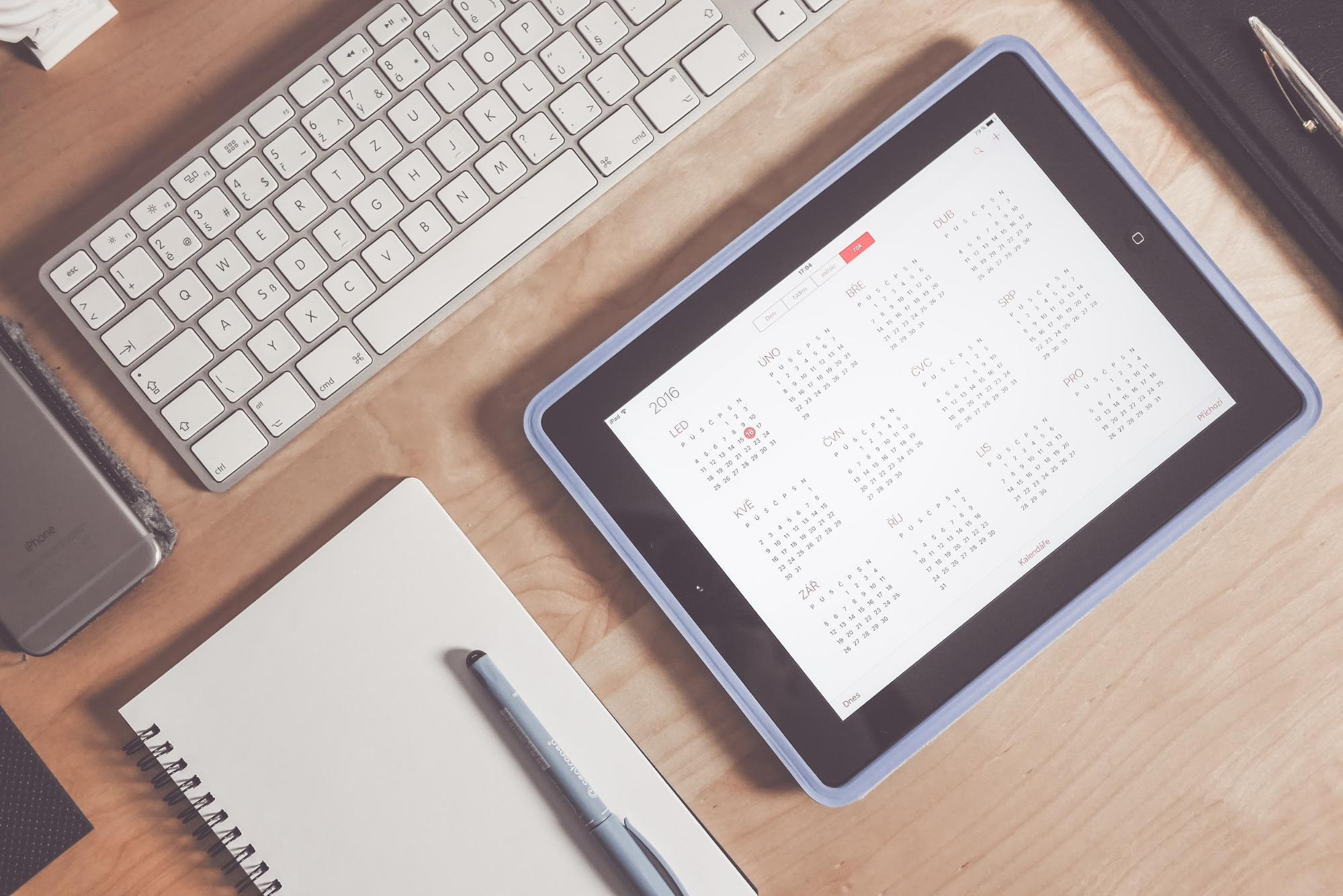 While your Instagram behaviour should look spontaneous, trendy and funny, our advice is that you get a communication strategy and plan ahead your posts.
Here are our favorites tools to do that.
The reason why we love Later so much is that it makes life easier.
You can plan an entire week's worth of Instagram posts really quickly, preview how your posts are going to look in your feed and re-organize them just by dragging and dropping.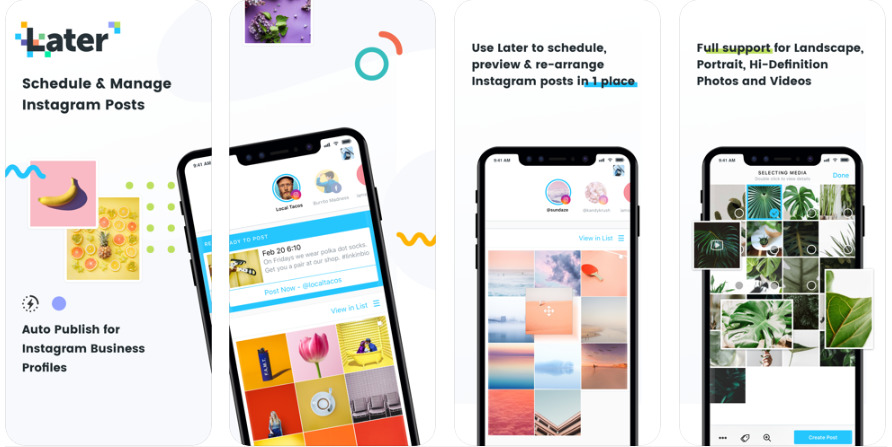 What's more, you can also use the publishing automation tool to have your posts published according to your schedule with no need of someone logging in every day to do it.
As its name would suggest, this app is ideal for previewing what your feed's composition will look like. It also lets you edit your pictures and find the best hashtags depending on your content and target.
Plus, you can monitor, measure and analyze your Instagram growth.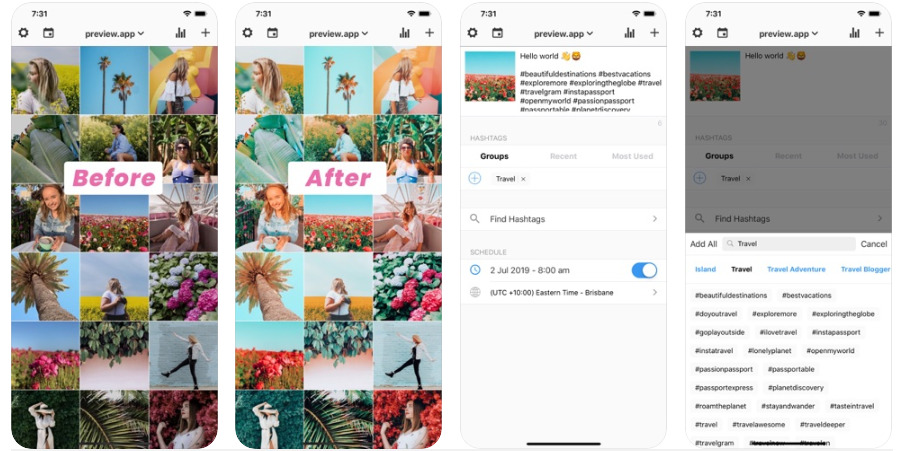 Consistent and long-term strategies are possible thanks to Sprout Social visualized calendar, that enables you to see each Instagram post in each profile.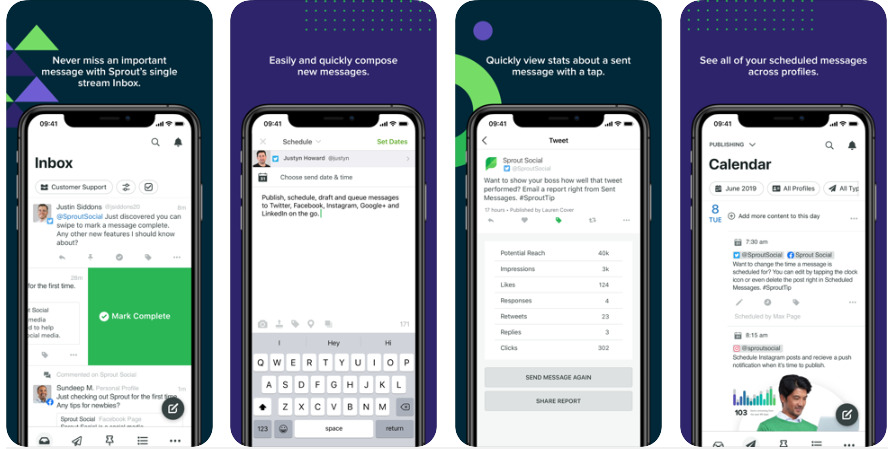 This tool also gives you the chance to schedule and automate your posts and it's also a great engagement tool, given that it provides real-time analytics.
Iconosquare is not only one of the most powerful analytics, management & scheduling platforms available. It's also very intuitive and easy to use and provides excellent insight about your account, like what's the best time of the day to publish for your audience.
What's more, it compares growth and engagement with your competitors!
We hope you enjoyed these apps as much as we do! Let us know which ones you will try and how you think they can improve your business!
Top Instagram tools for animated Stories and marketing videos
Marketing videos and animated Instagram stories are a super trendy medium to attract your audience's attention, so your success depends on making a difference. If not, your audience will swipe past you because, well, why wouldn't they?
You've got to give them something to leave them astonished and wanting for more. Here are the best ways to make it happen.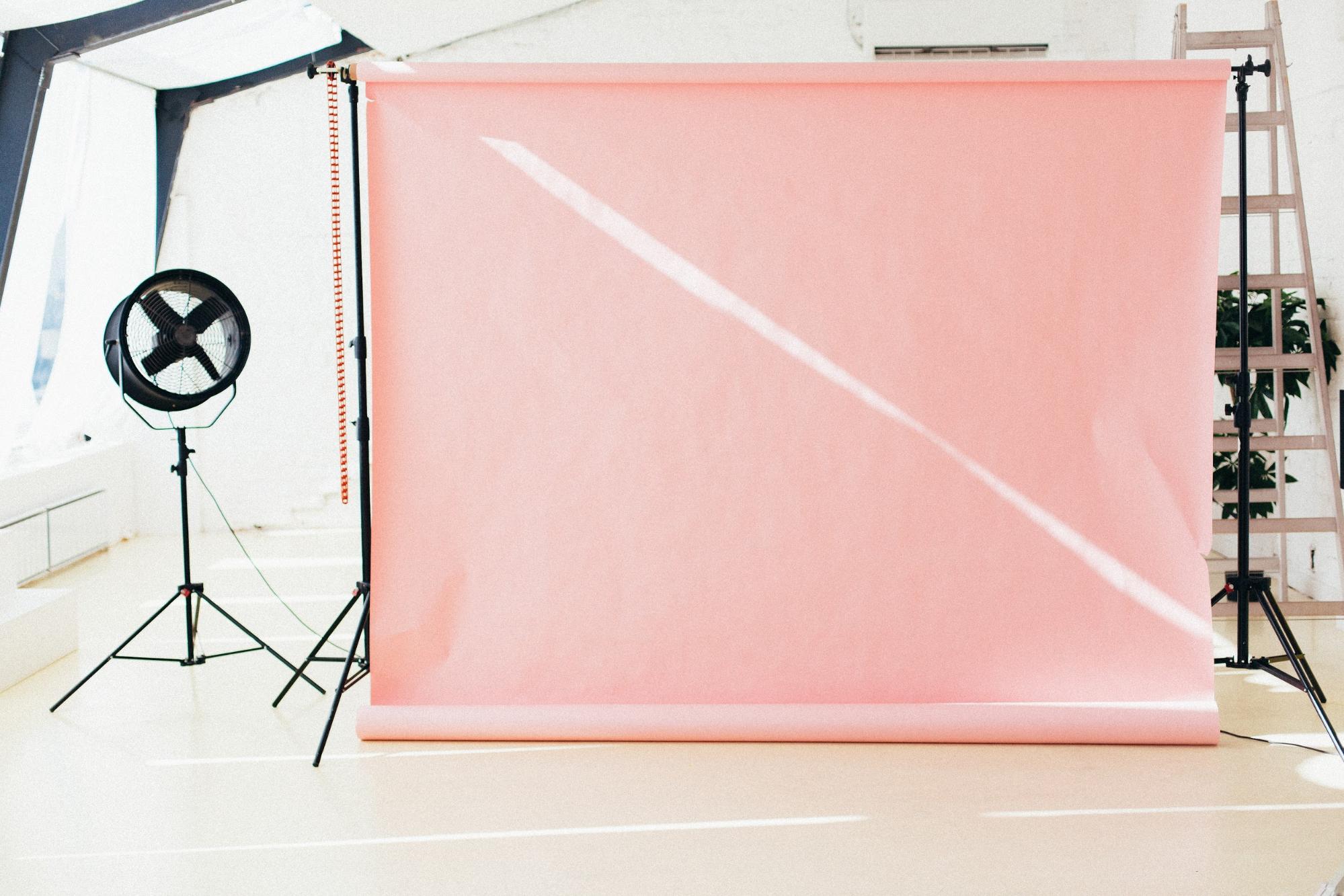 VideoBoost is the best video maker to create any kind of videos —everything from ads and tips to tutorials and literally whatever you want— in a really quick and simple way that will save you time and therefore money.
The reason why it's so recommended is that it's one of the most focused on social media best practices, with each one of its templates and features built specifically for this purpose.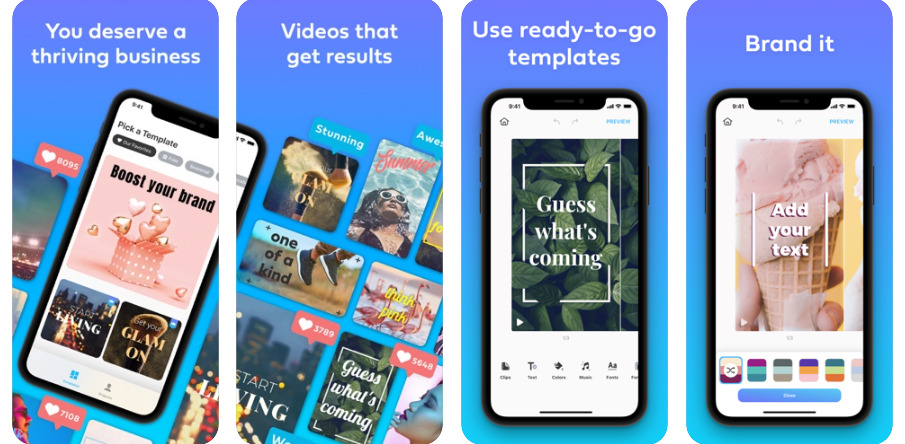 It lets you customize your videos with filters, colors, fonts and music or use top-quality templates, just in case you are not feeling inspired and want something ready to go.
In addition, this video maker is perfect not only for Instagram but many other social platforms, and it also has its own Getty Images video clip library: if you don't want to use your own clip, you can here find one to fit your brand's strategy.
One thing we absolutely love about Mojo is that, unlike with almost any other app, it doesn't require you to create an account.
You can just download it and use it right away.
Mojo is an excellent tool to help you create stunning video stories following just three simple steps!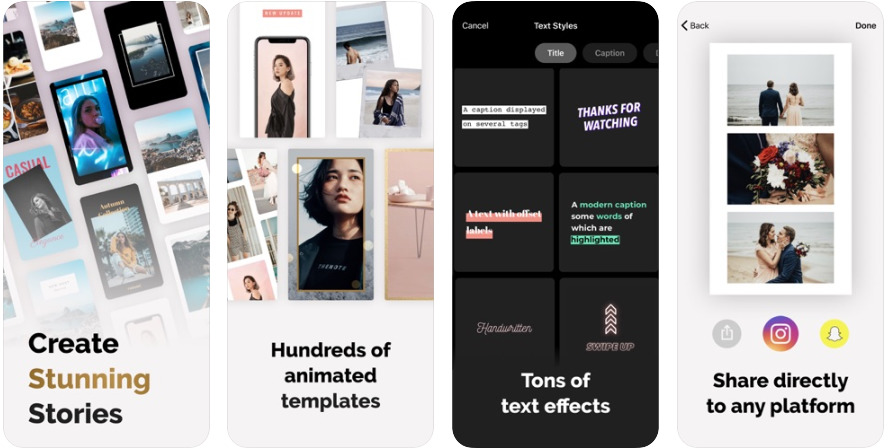 First, choose the animated template that best suits the message you are trying to share. There are more than a hundred templates, each of them 100% editable and with completely different styles.
Second, personalize it by adding any texts, videos and images you want.
Remember that you get free access to more than 100 text styles and that you are allowed to customize fonts, colores, sizes, positions and alignments.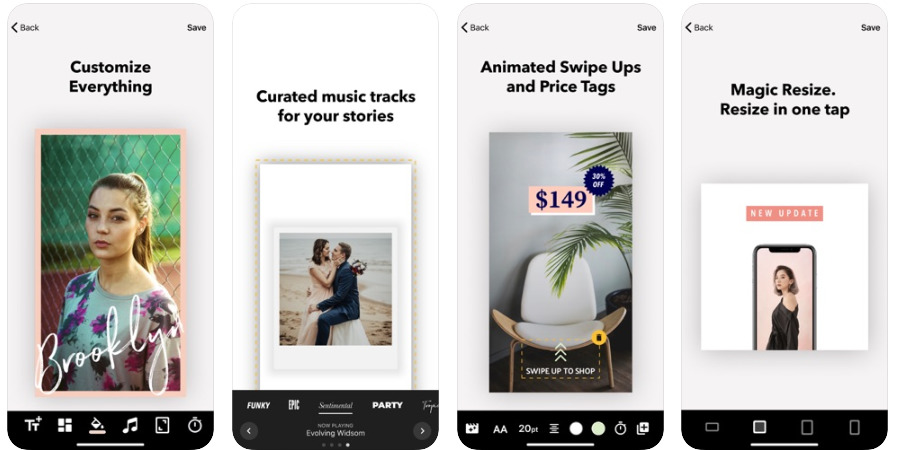 Finally, just go and spread your amazing video on every platform you wish.
CreatorKit is the best video editor for ads and Instagram daily content. It's one of the best tools for marketers and influencers as well. The best part? It's built by us!
After creating Top Nine, which was used by millions of celebrities, influencers, and Instagram users, many approached us with requests to create customized grids using the designs from the Top Nine video.
We believe that even though there are hundreds of apps to create content for Instagram, there are still many things that can't be achieved using them. As a result, the only way to create this content is by using expert software like After Effects, which is costly and time consuming.
With CreatorKit, creating motion graphics and animated content is easier than ever! Stories and videos created with CreatorKit are striking and thumb-stopping, while at the same time remaining on-brand. Every element has animations: layouts, transitions, and smart text elements.
We're working hard to make CreatorKit the best video editor for Instagram. The app is currently invite-only, and free for Top Nine readers. Just head over to the CreatorKit home page and use code "Top Nine" upon request.
If you want to learn about growth on other social media platforms like Twitter you could also check Owlead because it's our favorite twitter tool to gain followers and grow your engagement with your community.
Happy editing!